Today, more and more organizations are beginning to understand the importance of philanthropy. For Covia, giving back to the communities that we live and work in has always been a priority. Our Covia Values—Safety First, Be Different, Deliver on Promise, and Act Responsibly—make up the foundation of how we do business. These principles shape the decisions we make and guide how we as an organization interact with all of our stakeholders, including our customers, suppliers, Covia Team Members and, of course, our communities.
Each one of our Values serves as a source of pride and connection for our Team Members. To Act Responsibly is one value in particular that countless members of the Covia Team embody every day in their professional and personal lives.
Nowhere is this more apparent than in the incredible philanthropic efforts of our Mexico Team Members.
Act Responsibly
Mirthala Ledezma Treviño, Community Relations Manager for Covia Mexico, exemplifies Covia's mission to Act Responsibly.
"…what fills my heart the most is volunteering. Knowing that I have the chance to put my time, strength and talents to the service of others to make a difference in lives is the most rewarding feeling in the world." - Mirthala Ledezma Treviño
Like Mirthala, we believe that by investing in our neighbors and giving back to the community, we create partnerships that will last generations. Covia currently operates 14 facilities in Mexico, where our community engagement programs and financial giving efforts are a prime example of the incredible charitable accomplishments of our Team Members. In Jáltipan, Veracruz, Ahuazotepec, Puebla, and Zacatlán, Puebla, we support more than 300 students in three different schools through scholarships, donations and volunteer efforts.
Recently, Mirthala spoke with the principals and teachers of these schools to hear how Covia's philanthropic efforts have impacted their daily lives.
Jaltipan School
The Jaltipan School is located in the state of Veracruz, Mexico and currently serves 153 students that range in ages from kindergarten through elementary school.
For Covia, the priority is to help make quality early childhood education affordable and accessible in Veracruz. Currently, Covia contributes to the Jaltipan School to provide scholarships for students, salaries for teachers, infrastructure maintenance and regular equipment upgrades.
Maria Amador Avelar Jr. High School
Maria Amador Avelar Jr. High School is located in the state of Puebla, Mexico and has 133 students and six teachers.
To facilitate ongoing learning initiatives, Covia has prioritized equipment donations for the school, including new projectors and audio equipment.
Since the school is so close to our Puebla, Mexico facility, Covia Team Members also spend volunteer days cleaning and painting at the school and at locations in its surrounding community.
Metepec Elementary School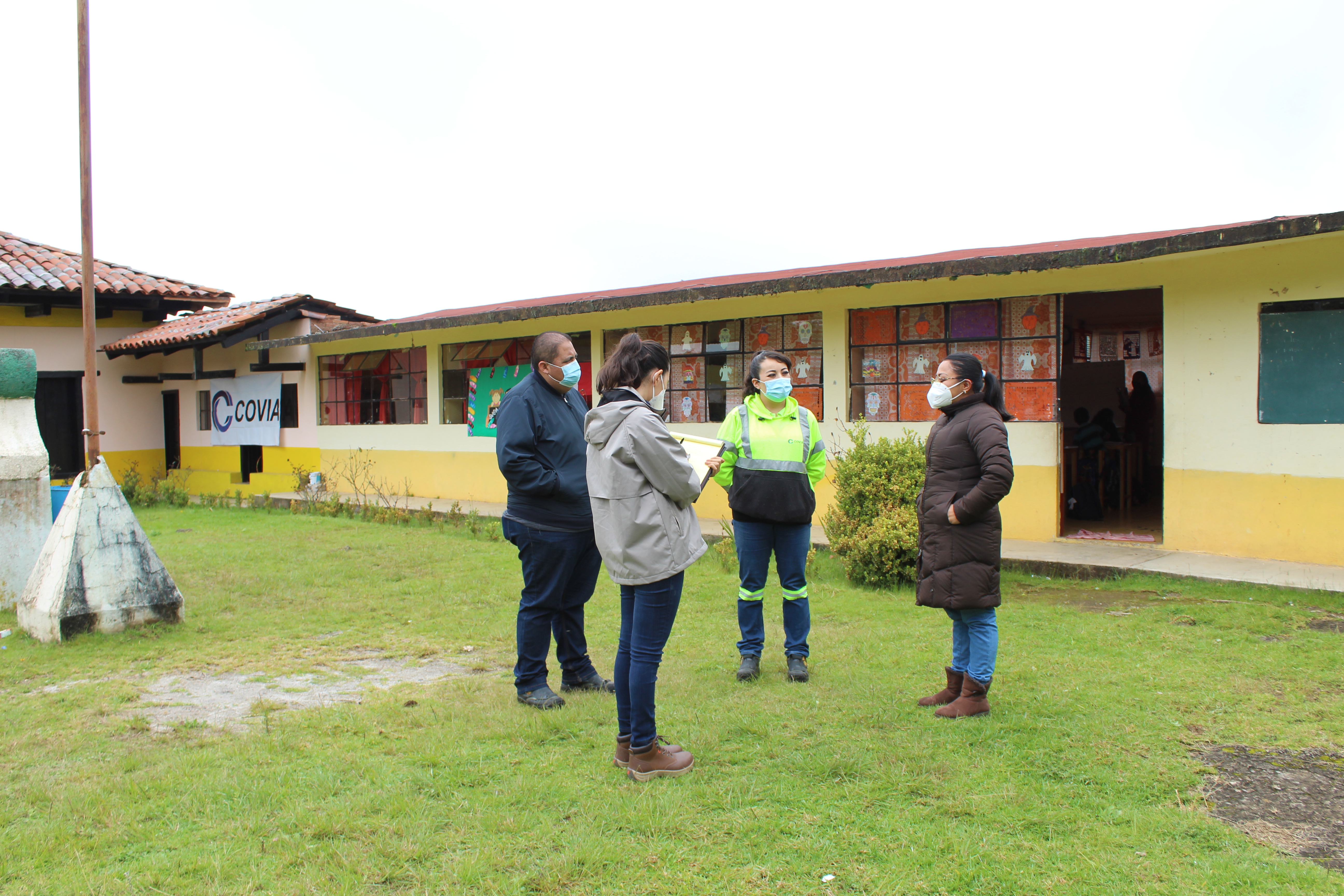 Three teachers and 63 elementary school students currently attend Metepec Elementary School, which is located in the state of Puebla, Mexico. Similar to Maria Amador Avelar Jr. High School, Covia's main priority when sponsoring Metepec Elementary School is ensuring their facility equipment is up-to-date and contributing to a safe and positive learning environment.
Recently, Covia supplied Metepec Elementary School with COVID kits that included thermometers and antibacterial gels so students could return to school.
Covia Cares
At Covia, we believe we are more than just a company; we're a vital part of our communities. We are dedicated to our Act Responsibly Value by promoting better education, improving health and wellness and promoting sustainable corporate and community practices within our Covia Family and the communities we impact.
Covia encourages our Team Members to give back by offering a variety of philanthropic opportunities, including:
A match of Team Member contributions to tax-exempt organizations on a 1:1 ratio up to $1,000 annually per Team Member.
24 hours of annual paid time off for volunteering.
$500 grants to organizations of the Team Member's choice up to two times per year for 40 hours of personal volunteer time. After two times, for every subsequent 20 hours, Covia will contribute $100.
Recognition for all Team Members who log at least 200 volunteer hours in a calendar year via the Covia President's Volunteer Service Award.
Together, we can strive for a better today, a better tomorrow and a brighter future for all.
To learn more about Covia's philanthropic initiatives, make sure to follow us on Facebook!